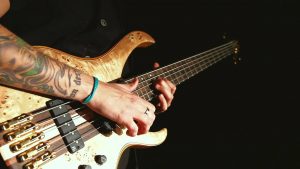 Lucio Manca is a Bass Player, Composer, Writer, Solo Artist and Session Man from Sardinia (Italy). He was born in Cagliari (Italy) on the 17th of march 1987. Since the young age of 6 he devoted a great passion for music and love for electric bass guitar. Between the age of 6 and 11 he constantly studied and played his instrument, improving his knowledge as a self-taught and keeping on trying to set up a band. His first band and live performance were carried out at the age of 11, within a death-metal band called Necroid. Later on he developed several music projects that ranged from punk, rock, crossover to heavy metal.
At the age of 13 he joined in a Dream Theater tribute band called "Zyro"; Then he found his ideal dimension in a definitely more atypical band called Bremys, inspired by exceptional styles such as those of Tool, A Perfect Circle and Katatonia. With that band he recorded two albums "Bremys (2008)", "Resurgo (2009)", and the official music video "Quel che non c'é". He had the honor to share the stage with some internationally known artist and to go on tour through Italy.
On the whole he spent several years performing live gigs with many bands of different styles: hardcore, metal, rock, thrash, stoner, funk.
Lucio Manca founded in 2006 "First of All Agency" booking, management and promotion agency with collaborators from different parts of Italy workin' togheter to support bands, selling merch, organizing events, booking tours, managing and promoting.
He also was the founding member, singer and composer in a parallel project called Bavarja. This thrash band owes its style to that of Pantera and Sepultura. That band recorded three demos so far "Chi saprà Accettare sempre Diprezzerà", "Nodo alla Gola", "Official Live" (one of which live) and reached the number of more than a hundred gigs during few years.
Since 2008 he has been playing with the death-metal band Natrium until January 2010; with them he recorded the album "Inscribed in the Victim Scars" and went on tour through Italy and UK. Lucio Manca has also been for many years singer for a Pantera tribute band called "Possessed" which played many shows in Sardinia and made tours in Italy, Keyra (Sepultura cover band) and more.
In may 2010 Lucio Manca became the bass player of Solid Vision and Captivity Trio (with Solid Vision's founder members Brian and Yan Maillard), a widely known progressive-metal band. He then recorded the album "Sacrifice" (2010), "Eleven 11\11\11 (DVD LIVE)"(2011), "Apocalypse" (Official music Video) and with the band he went on tour in Italy and Europe. Solid Vision also was truly mentioned by Dream Theater as Europe's best Tribute To Dream Theater and the band was managed by MAM AGENCY (NL). In April 2011 he entered in the band "Dominici", the main project of Charlie Dominici (Original singer of Dream Theater). Since 2010 Lucio Manca began to work with public and private Music Schools as a Bass Guitar teacher and he did masterclasses and clinics in Sardinia and Italy.
In December 2012 he concluded the recording of his first solo instrumental album called "Everybody needs an Angel" that was released with the official music video "Scorched Earth" in March 2013, produced by Noise Head Records (Austrian Label) and followed by some shows.
In 2013 he signed his collaboration with Mogar Music Italy for the Ibanez Guitars and ErnieBall Strings endorsement.
In 2013 he replaced Craig Gruber (original bassist in Rainbow, Elf) in the multinational Heavy Metal band Raven Lord featuring the guitarist Joe Stump and he recorded the album "Down the Wasteland". The band had been signed by Mausoleum Records and played summer shows in the United Kingdom followed by the R-Mine Metalfest 2013 festival in Belgium with Symphony X, Masterplan, DGM and many others.
He also worked with Exorcism, a Multinational doom metal band which signed a record contract with Golden Core Records, a sub label by ZYX Music, Germany. Lucio Manca recorded with Exorcism "I am God" (Full Lenght, 2014), "World in Sin" (EP, 2015) at TotalMaster Studio in Palma de Mallorca (Spain) and the official music video "Higher". The band played many shows in Europe followed by the great Festival in Holland "Dokk'em Open Air" with Death, Annihilator, Metal Church, The Dillinger Escape Plan, Gamma Ray, Napalm Death and more.
In 2014 Lucio Manca collaborated as a singer with the sludge\metal studio project "Iknausea" that released the Full Lenght album "What Really Pissed me Off" and he also finished the recordings for the release album of a new band called "7EvenSept" (multinational hard rock band). During this time he also worked and played with Grammy nominated producer and writer Rick Hale, Garry King (Joe Lynn Turner, Jeff Beck, Achillea), the guitarist Jay Parmar (for the prog metal band Inner Road), Joe Stump (Reign of Terror, Holy Hell, Berklee College of Music Teacher), John Macaluso (Yngwie Malmsteen, Ark, Tnt, James Labrie), Pino Scotto (Vanadium, Fire Trails), Rich Smith (Power Quest, I am I), Thiago Trinsi, the Italian alternative/metal band "Eskimada" for the full length "The Phoenix", Italian metal band "Monolythus" for the EP "Anything Is Better Than Lie", the Sardinian rapper "Su Maistu" (Balentia) for the album "Coranta", various recordings released for Audiosparx (digital download only) and many more. He still works as a session player with many bands and artist for live performances, compositions, arrangements, productions, masterclasses and clinics, orchestration for films, TV and games. In 2015 Lucio Manca collaborated as a session man with the Greek band Jaded Star for the shows in Athens and Thessaloniki to support Epica in their "Greek Enigma Tour".
In 2015 he brought the official endorsement with the Greek brand "Warlord Custom Pedals" who made the Lucio Manca's signature pedal "The Quake" distortion pedal.
In 2015 he joined in the reggae project from Sardinia "Stone Republic" with the singer Bujumannu from "Train To Roots" followed by many festivals and gigs and the release of the single "No Poto Reposare". In 2016 he started his collaboration with the multinational country/rock band "A good Day" and the progressive\metal band from Estonia "Vital Science" (Power Prog Records). In the summer 2016 he became the bass player of the Italian band "Tamurita" produced by Joxemi (Ska-P) and SP Produzioni. He recorded the new Single\Videoclip "Vivere-Carpe Diem" and played in the summer tour "Vivere Tour 2016" followed by the biggest Festival In Sardinia, "Mondo Ichnusa Festival 2016" with Max Pezzali, "Simaxis 2016" with one of the most famous punk bands in Italy, "Punkreas" and more.
After the release of three Single\Videos Sorrow (2015), No Escape (2015) and Glorja (2016) he actually released his new 2nd Solo Album called "An Old Man's Sad Story" featuring Garry King (Joe Lynn Turner, Jeff Beck, Achillea) on drums by Worldwide Digital Music Distribution CDBABY.